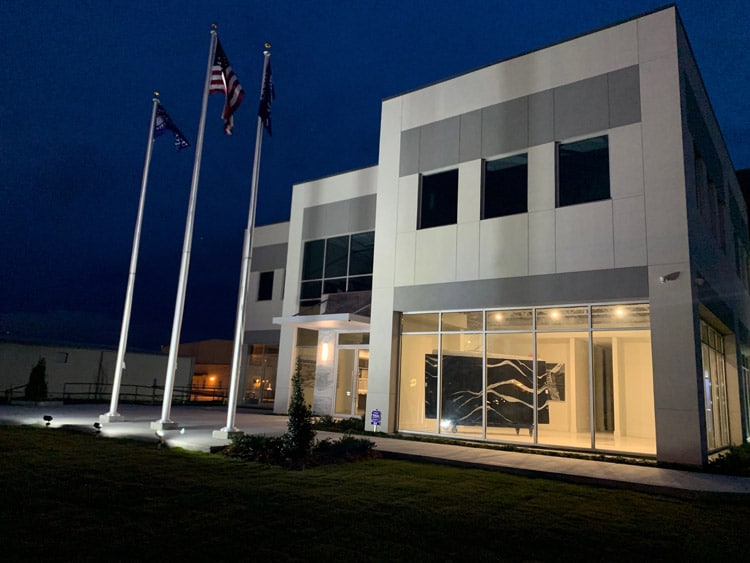 At Stone Interiors New Orleans, we take pride in our state of the art facility, safe operating equipment, and environmentally friendly business practices.
​
Our facility in Saint Rose, LA, features specialized waterjet cutting equipment, allowing us to cut in detail any unique shape or design for custom counter tops or floor inlays.
With over 10 years of experience and over 20,000 installations, we know the quality and selection our customers expect. As members of the Marble Institute of America, we are committed to delivering the highest quality product and craftsmanship for our customers. Our commitment to personal attention, quality installation, timely delivery, and maintaining a wide selection of in-stock inventory sets us apart from the rest.
Modern Equipment
With high end CNC machines and laser measuring technology, we're able to cut stone with impeccable detail and precision that many fabrication shops simply cannot replicate.
We've invested in the highest quality equipment, so we can deliver the exact results you envisioned. We're committed to making the perfect cut in the stone, granite, or marble piece that will become a centerpiece for your kitchen or bath – and it all starts with the facilities.
We receive our vast variety of marble and granite slabs on-site, where our skilled team measures and cuts every piece with care and precision. From the shop to the showroom, we're dedicated to maintaining clean, safe equipment – all so we can custom build and install the perfect counter top for your home.
Our granite and marble cutting facility right here in New Orleans is one of the most modern stone cutting sites in the state. You know you'll be in good hands with Stone Interiors New Orleans.
​
Safe for the Environment
The Stone Interiors New Orleans counter top building facility is not only effective: it's safe and environmentally friendly! Running a state of the art facility means more than having fancy equipment. It means doing our part to keep our planet healthy. Most shops use water when fabricating natural stone to keep silica dust from becoming airborne. After the water is used, it simply runs down the nearest street drain or back into the ground.
​
Stone Interiors does things differently. We capture this water through a series of underground pipes, pump it to a Cyclone Water Filtration system to be cleaned, and reuse the same water over and over again. Doing the right thing is an easy call!