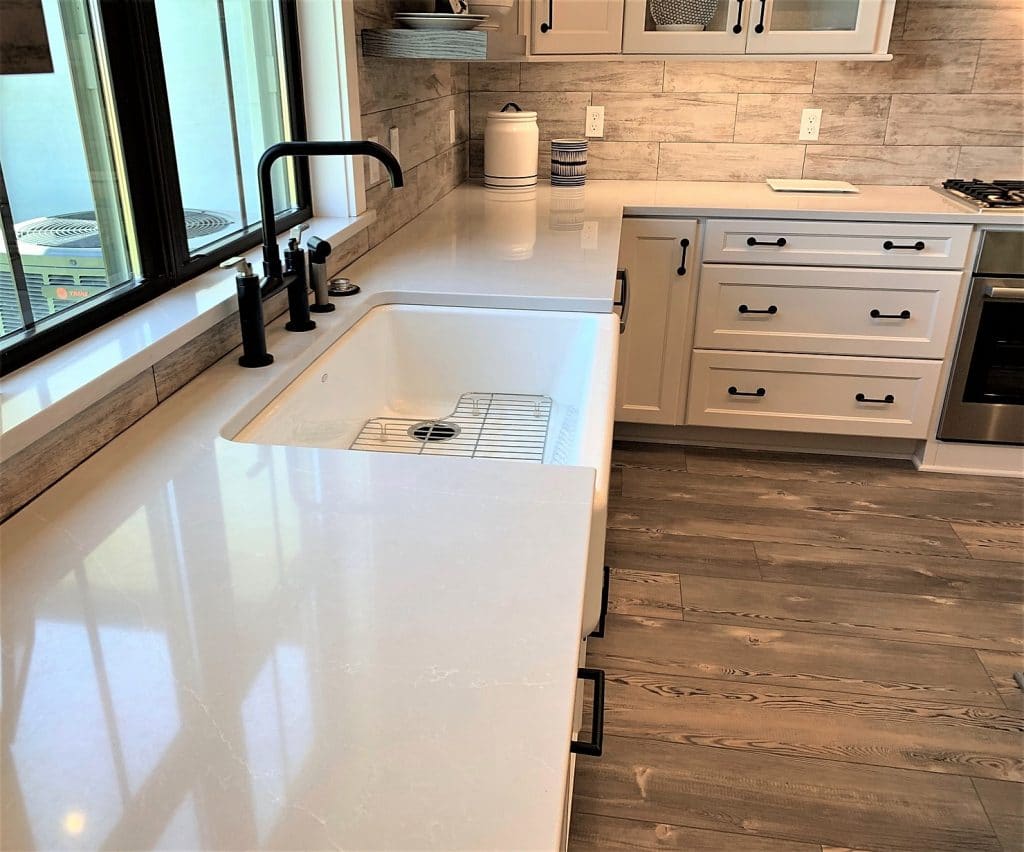 Engineered quartz has become one of the most popular choices for countertops, and for good reason. Quartz is naturally stain-resistant and easy to clean, as its less porous than granite and marble.
The Stone Interiors team has decades of experience in quartz countertop fabrication. We will help you select the perfect quartz slab for your space, shape the stone with your preferred edge profile, and install it to complete your perfect kitchen or bathroom.
​
Fully licensed & insured
State of the art fabrication facility
Laser measure technology
CNC robotic cutting
Fully accredited by the Natural Stone Institute
Quartz Bathroom Vanities
Quartz is an excellent choice for a master bathroom vanity, and it's quickly gaining popularity among home owners. Engineered quartz vanities are durable, and can be found in a wide variety of colors to match your style. With the appropriate daily maintenance and care, you can count on a Quartz vanity to last forever, even with the occasional makeup smudge.
Quartz Countertops
Have you been debating what type of material to use in your kitchen? A quartz kitchen countertop, island, or table top will be highly durable and aesthetically beautiful. Like granite, quartz can be fabricated with a range of different edge profiles, and can even be produced to replicate a natural stone like marble.
Our fabrication team is skilled in shaping engineered quartz products to give you a safe, durable, and gorgeous end result.
We encourage our customers to view hundreds of quartz slabs in person at our showroom. You'll be able to see a wide variety of stone colors, sinks, and faucets, to ensure you get the perfect countertop or vanity for your home.
​Whether you're looking for custom countertops or discount quartz slabs, Stone Interiors New Orleans is your source for engineered quartz slabs and remnants.
Quartz Supplier & Fabricator
We don't just fabricate your countertop – we also have a large inventory of quartz on-site, allowing us to offer the perfect material for every price range.
We are proud to carry the highest quality quartz brands, including Cambria, Caesarstone and Silestone.
"Very personal and helpful experience with a knowledgeable staff from top to bottom. We're very pleased with the new quartzite counter top in our kitchen. Beautiful stone, nicely matched, precision cut and expertly installed."
– Charlie M.
"It was a pleasure to have them in our home. When they left, our kitchen not only looked beautiful, but they took the time to make sure everything was cleaned up and spotless. We couldn't be happier."
– Dale V.
"Job very well done. Took their time to get it all in just perfectly. Can't even see the seams they are that well camouflaged and glue color-matched."
– Lisa P.