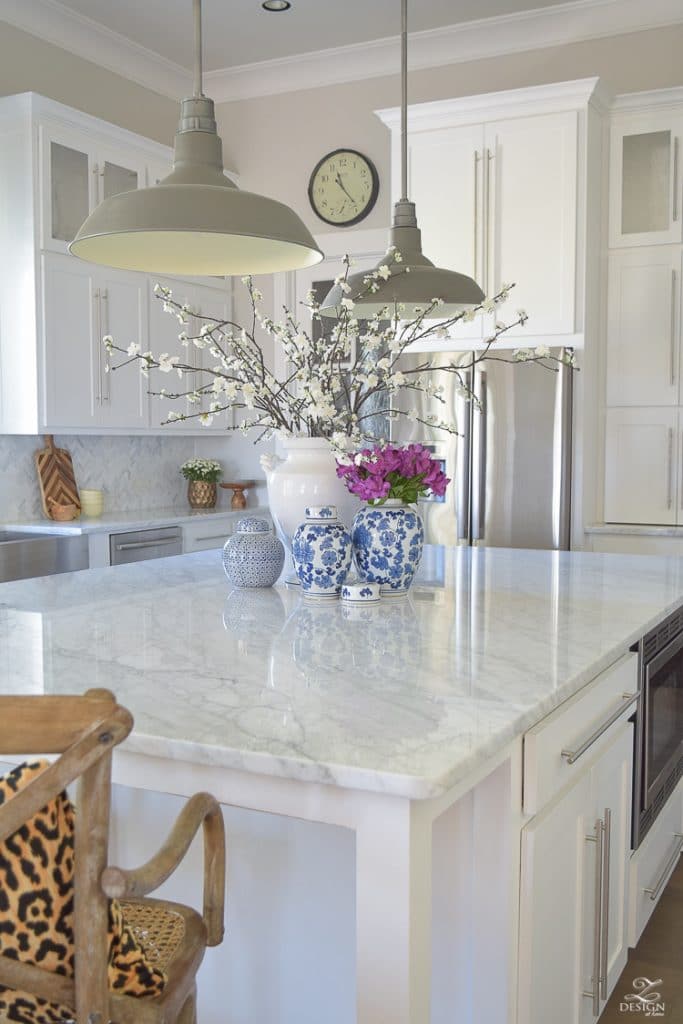 A marble island, countertop or bathroom vanity never goes out of style. A 100% natural stone, each marble slab includes unique veins, movement, and coloration that serve as a beautiful focal point for any room in your home.
​We carry a wide range of marble colors, and can advise you on selecting a slab, edge profile, and more. And for those of you who are concerned about preserving the look of your marble long-term, we carry honed marble slabs. (Honed marble has a soft, satin finish, and does not reveal etching from spills the way polished marble does).
​We invite you to stop by our showroom in Kenner, LA, and work with a stone specialist. We will guide you in the process of selecting the right marble for your home, and let you know what to expect throughout the fabrication and installation process. We look forward to working with you!
Select Your Marble Slab
You've chosen to invest in your home. So you deserve to get the exact marble slab that appeals to you, and will amplify your space.
​At the Stone Interiors showroom in Kenner, LA, we stock a wide variety of marble slabs, in many different colors. We'll partner with you one-on-one to determine your style preferences, so we can pull a few slabs that we know you'll love.
​Upgrade your kitchen or bathroom with confidence and peace of mind by viewing your slab firsthand.
Marble Fabrication & Installation
The Stone Interiors team has decades of experience fabricating and installing countertops and vanities. We know which tools and techniques work best to maximize the natural beauty of marble. 
​We have state of the art laser measure technology and CNC machines, so we can create the exact marble countertop or vanity you envisioned. 
​Customize every aspect of your counter or bathroom vanity top by selecting your sink, faucet, and edge profile with the help of an accredited stone professional.
Features and Benefits of Marble
Marble continues to be one of the most sought-after stone surfaces for residences and businesses alike

Marble is naturally heat-resistant and remains cool to the touch

Marble surfaces demonstrate that you've invested in your home, and increase property value

Every marble slab is 100% natural and unique
Caring for Your Marble
Stone Interiors highly recommends honed marble, which will give the stone a soft satin finish, and makes it less susceptible to etching.

Unlike honed marble, polished marble is vulnerable to scratching and etching (dull spots in the stone). For this reason, polished marble is not recommended for utilitarian areas. If you decide to purchase polished marble, take extra precautions when using acidic liquids like citrus and wine, as these substances could cause etching (which is not covered by the Stone Interiors warranty).

Sealer can be applied to help prevent staining. Stone Interiors offers a warranty covering stains.
"Very personal and helpful experience with a knowledgeable staff from top to bottom. We're very pleased with the new quartzite counter top in our kitchen. Beautiful stone, nicely matched, precision cut and expertly installed."
– Charlie M.
"It was a pleasure to have them in our home. When they left, our kitchen not only looked beautiful, but they took the time to make sure everything was cleaned up and spotless. We couldn't be happier."
– Dale V.
"Job very well done. Took their time to get it all in just perfectly. Can't even see the seams they are that well camouflaged and glue color-matched."
– Lisa P.