Engineered quartz has grown to become one of the most popular choices for residential kitchens. But there's still a lot of confusion out there about what engineered quartz actually is, and how it holds up to daily use. 
We like to inform our customers about any material they're considering for their home, whether that's engineered quartz, granite, marble, or quartzite. For those of you researching kitchen countertops, we've pulled together some of the most common questions customers ask us about quartz, and our honest take on what you can expect from an engineered quartz countertop. 
What is engineered stone?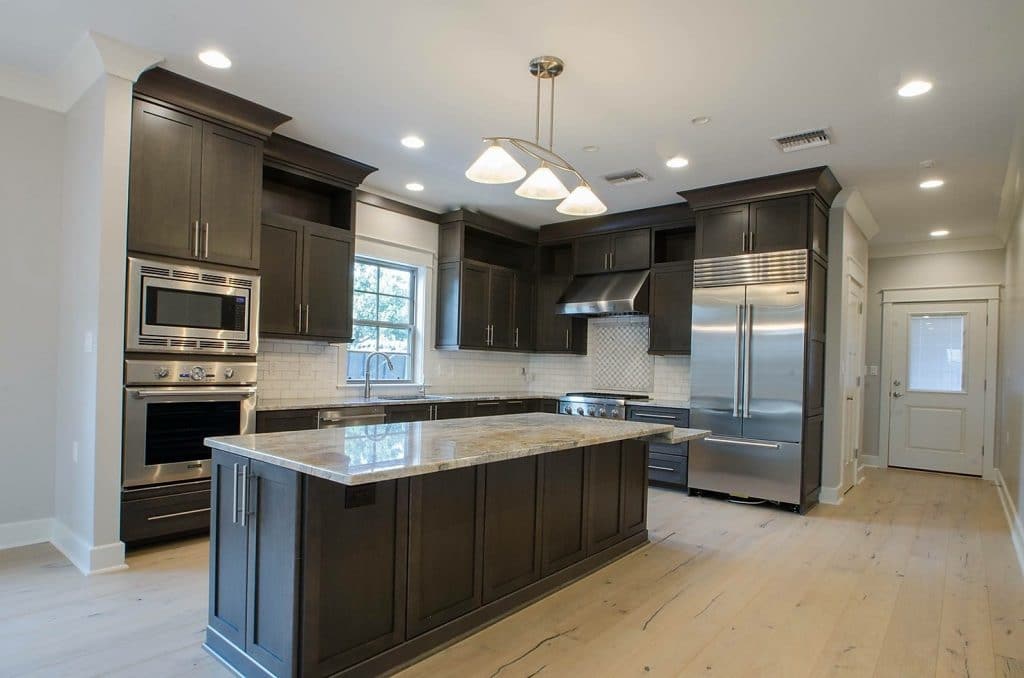 That was a trick question: engineered quartz isn't a stone at all! Quartz countertops are man-made products. Manufactured quartz countertops do contain natural quartz, but they are also made up of binding resins. So quartz is considered an engineered material; not a natural stone.  This means you don't get the unique, natural veining that can be found in granite and marble. Many homeowners love the idea of having a piece of nature as the centerpiece for their kitchen, and appreciate the fact that no slab of granite or marble can be replicated. For those who agree, quartz simply won't cut it. 
But for customers who want consistent color, engineered quartz may be a very appealing option. Quartz slabs tend to have even coloration and texture, since they're manufactured in a controlled environment. This makes it much easier to select a slab, or get a consistent look using multiple slabs. 
What is quartz? As you research different quartz brands, you'll find many manufacturers who call their product "natural quartz." But don't be fooled. This is misleading terminology, since quartz slabs are not natural stone. They include some natural elements, but they are a manufactured product. 
 In contrast, if you purchase a true natural stone like granite, marble, quartzite or soapstone, there are no man-made additives (aside from a sealer, which is sometimes applied to the surface for protection). 
Is quartz porous?
Like almost any other countertop material, quartz is technically porous to an extent. But the question of porous vs. non-porous actually misses the point: when most homeowners ask us about porosity, they actually want to know how easily the material might stain. 
 Many quartz brands come with stain warranties, very similar to the sealers that are sold with granite. Engineered quartz and sealed granite countertops tend to have similar stain-resisting properties. Partner with your fabricator, and discuss the specifics included in your particular warranty. 
How do you clean quartz countertops?
 Engineered quartz is relatively low maintenance. Most spills can be cleaned with warm water and a soft cloth. For tougher stains, like oil or grease, use a mild dish soap. Avoid abrasive materials, harsh, acidic cleaners, and bleach. 
 Many quartz brands recommend specific cleaners for their products, so ask for their best practices on care and maintenance before you make your purchase.

Do quartz countertops stain?
Engineered quartz doesn't absorb stains as quickly as soft stones do (such as marble). But there are certain substances that will stain quartz. 
The best way to prevent staining is to clean spills quickly. For stains that are especially tough to clean, contact your quartz manufacturer to get their recommended cleaning methods. Many quartz products come with a warranty from the manufacturer. If you're not able to remedy the stain, confirm whether it might be covered in the warranty before you have the counter repaired or replaced. 
Are quartz countertops heat resistant?
Engineered quartz is not heat resistant. Quartz can be damaged if it comes into direct contact with a hot pot or pan. Always use a trivet to protect your quartz from high heat.
 As a stone fabricator, we feel strongly that every homeowner needs to choose the right countertop material for their lifestyle. No material is necessarily better than another; it all depends upon your own priorities. 
 We partner one-on-one with every customer to ensure they have realistic expectations about how their countertop will hold up to daily life. If you have any questions about engineered quartz or any other countertop material, please don't hesitate to reach out and schedule an appointment at our showroom.